Autumn & Winter 2019 End of Year review.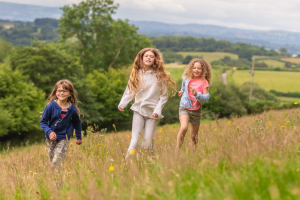 Welcome to our Autumn/Winter Review of the year.

It has been a while since my last newsletter, but with so much going on over the last 12 months, it seemed high time we updated you and give you a heads up as to what will be happening in 2020, including the return of the Health and Wellness Retreat and our first ever Father and Sons Survival Weekend (for more information on both these events, check-out the Whats On in 2020 section of this newsletter) .

I was just thinking is November too early to do a look back on 2019, as New Year seems to be the time to do a review of what's happened over the previous 12 months. Then I remembered that the supermarkets started selling Mince Pies and Christmas Puddings in September, so why not. Here are just a few of the highlights that have made this another great year for us at Hidden Valley Yurts & Lake House.

I hope you enjoy this autumn/winter newsletter and I promise I will not mention Brexit or upcoming Election.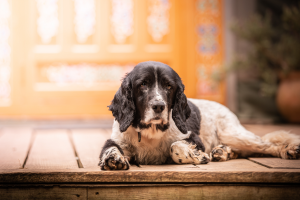 Tilly has had a great year

 As always Tilly has been a large part of our guests holiday experiance and memories this year. We may not have had the heat wave that we experienced last year but this has meant that there has been plenty of water in the stream to paddle and splash around in. Tilly has of course been coming home soaking wet, tired and extreamly happy. 

Although she is now getting on in years (we estimate she is about 12) and her sock and shoe stealing antics have become less frequent. Her reactions with food are still as sharp as ever, with reports of missing quiche, sausages  and portions of fillet steak still coming in.

However, she is slowing down and after a morning running around, going on walks and getting completely spoilt, she will generally spend her afternoons enjoying the company of our more relaxed guests. Laid out sun bathing on a quite deck away from all the excitement and noise, if there is a ready supply of treats on hand then so much the better. A perfect companion to enjoy a good book and glass of wine with on a lazy summer afternoon.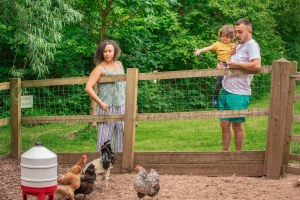 Chickens and Mr Fox

One of the things our guests enjoy is collecting fresh eggs from the chickens on the yurt site. While we have maintained a number of birds down on the site all of our other chickens have fallen foul to a local fox (2 separate attacks over 8 months). This has meant we have had no eggs to sell or for our own use. We sadly have decided that we are no longer able to let our chickens run free and for their safety will have to keep them in a large open air enclosure with plenty of room to run around in.

We will still be putting chickens down on the yurt site during the summer but will need to get some new hens. This means there might be a shortage of eggs at the beginning of the year but hopefully by June egg production will be in full swing again.

2019 review.

It has been a great year, with guest numbers slightly increasing for the yurt site and the growing popularity of the Lake House, we have been really busy. Our number of international guests has also risen with visitors from America, Chile, Hong Kong, Australia and Poland among other countries, some finding a relaxing stay in the Hidden Valley just the thing to either kick start or end their holidays with.

We started the year with a visit from Visit Wales (the Welsh National Tourism Association) to get both the yurt site and the Lake House under their Star Rating Scheme. After a tour of the farm and an intensive look at the yurts, the Lake House and all the facilities we were pleased to have achieved the following ratings: – The Lake House – 5 star rating (highest possible rating). The Yurts – Highly Recommended (the highest possible award for a glamping site without ensuite facilities).

We then paid host to the world class bloggers -Travel the World Family. Claire, Ian and their 2 children spent 4 days in the Lake House and loved every second of their stay. Take a look at their Instagram page to see for yourself athttps://www.instagram.com/traveltheworldfamily/ Follow their story by clicking on the Wales button.

TripAdvisor awarded us our 3rd successive Certificate of Excellence. A massive thank you to everyone that left a review this year. Only 2 more to go to get into TripAdvisor's Hall of Fame. Click here to take a look at all our amazing reviews.

And finally, we have had 2 mentions in the national press this year.

The first was in the Times and huge thanks to a regular guest, who loves Yurt 1 and its kitchen so much that she wrote a letter to the Times, who published it (slightly edited). We are more blown away that this guest took the time to write the letter than its publication. They have stayed with us in yurt 1 almost every year since we opened 12 years ago.

The second was an article in the Sun on Sunday's Fabulous magazine. We were picked along with 2 other glamping sites from around the UK (2 in England and ourselves from Wales). We were originally told that the article was to highlight the areas we were all located in, with the main focus of the article being the actives and adventures families can experience while holidaying in these various locations. After a phone call from the reporter asking about the yurts and farm that make up Hidden Valley Yurts, the activity she decided on was a day with survival expert Simon Birbeck of Wild Adventures. They didn't even need to leave the farm as Simon was able to take them on a survival experience in our woods.
So whats new for 2020
Every year we try to find and bring in something new for our guests to enjoy, this could be an an activity or excursion away from the farm, or something that can be experienced here without having to get in your car. These activates are posted on the Out and About and the On-site Activities pages of our website.

This year we bring you Wye Valley Falconry and Breakfast Boxes & Meals from Blackberry Events Catering.

Wye Valley Falconry

Get up close and personal, enjoy an entertaining and informative experience. Fly a mixture of birds with Wye Valley Falconry.  This Private experience gives you an opportunity to meet and handle owls, hawks and falcons with falconer Luke Mammatt. Luke will describe their behaviours, evolutionary features and hunting techniques, as well as giving you a real opportunity to lean about birds of prey from around the world.
Breakfast Boxes and Meals

Based just a mile up the road, Kate from Blackberry Events Catering will prepare and deliver delicious, locally sourced DIY breakfast boxes, Afternoon Cream Teas, Antipasto platters, BBQ hamper. Also available is a fabulous beef and chorizo chilli. Vegetarian, Vegan, Free From and tailor made menus are also available on request.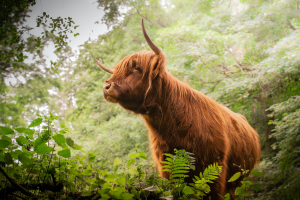 Whats On in 2020

After such a great year what better than to look forward to whats going on in 2020. Here are some events you may like to know more about.

Easter Bank Holiday Weekend

For the 3rd year running we will be holding our annual Easter egg hunt for our guests. This year I once again over estimated the number of chocolet eggs needed and watched as children left with carrier bags full of chocolet eggs on their arms and huge smiles on their faces. While I can't guarantee I won't make the same mistake again, it has happened 2 years running so really can't rule it out either!

15th to 18th May 

Healing and Wellness retreat.

Join us for this wonderful healing and wellness retreat in Monmouth, set in beautiful and peaceful surroundings . Immerse yourselves in tranquility and self-healing.

You are invited to explore different styles of yoga taught by experienced teachers , meditation workshops, gong baths, shamanic journeying, drumming and much more.

All Meals are provided and will be vegan and vegetarian, all food will be healthy. Please let us know of any food intolerances/allergies so we can cater for those. Ed will be our chef this year for all meals.

For more information about additional tretreatments and booking costs please contact Emma by email
shivasangelsyogaretreats@hotmail.com


11th to 13th September

Fathers and Sons survival weekend

In partnership with Simon Berbeck from wild Adventures, we are holding our first ever Father and Sons survival weekend.

So mums if you would like to have the house and TV remote control to yourself for a couple of days. Or maybe treat yourself and the girls to a relaxing weekend, then why not send the boys off to rough it for a couple of days while you enjoy the peace and quiet.

While the itinerary is still to be finalised, we really want to get all those participating out of their comfort zone and to start communicating with each other. There may be the chance to try building their own shelter for a night, learn how to build and make your own fire, how to cross a river with just a rope and the opportunity to find out what freeze dried insects and spiders taste like (yummy and everyone gets a leg!).

Accommodation will be shared and prices will be on a per head bases of £150.00 per person. Meals will be provided.

Spaces limited to a maximum 20 and not available online, call 01600 860 723 for more details or to book your spaces.

And Finally….

A big thank you to all who participated  in our photo shoot this year. The resulting photos (some of which have appeared in this newsletter) will be used in some of our social media posts, in newspaper articles and advertising through out 2020.

If you would like to receive a regular copy of our newsletter  then scroll to the bottom of this page and  fill in the simple form.

If you have any suggestions on content you would like to see or anything else, please send me an email. All suggestions are welcome, if you have any stories or pictures of your own that you would be happy for us to use or include please feel free to send them to us. Send your suggestions, stories and photos to:

info@hiddenvalleyyurts.co.uk
I will send out a newsletter on a regular basis depending on content.
Have a Merry Christmas and a Happy New Year, or is it still a little early?